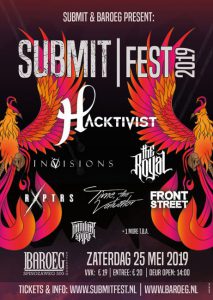 Met nog iets minder dan twee maanden te gaan, heeft de organisatie van Submit Fest de metalcore band InVisions toegevoegd aan de line-up voor de derde editie van 25 mei 2019 in Baroeg, Rotterdam.
InVisions (UK)
InVisions heeft binnen een korte tijd flink indruk weten te maken en bracht begin dit jaar hun tweede album uit; het ijzersterke, brute en verrassende album 'Between You & Me', met vette tracks als "Too Far Gone" en "Good For Nothing". InVisions staat voor agressieve en soms melodische metalcore, gevuld met heavy breakdowns en catchy hooks. Live vertaalt zich dit gegarandeerd in een goed portie headbangen en een flinke moshpit. Na eerder dit jaar met Our Hollow, Our Home in Nederland te hebben gespeeld, keert InVisions weer terug voor een show op Submit Fest.
Hiermee is er een wijziging in de line-up aangebracht voor het modern metal festival en heeft de organisatie nog een Nederlandse naam bekend te maken. De show van Palm Reader op Submit Fest is gecanceld.
Submit Fest line-up
InVisions (UK) voegt zich bij headliner Hacktivist (UK), The Royal (NL), Time, The Valuator (DE), RXPTRS (UK), Familiar Spirit (UK) en Frontstreet (NL). Tickets zijn beschikbaar voor 19 euro in de voorverkoop en 20 euro aan de deur.
Submit Fest is het indoor festival met de beste 'up and coming' en 'breaking through' metal acts van regionale, nationale en internationale bodem. Deze editie richt zich op alternative metal, metalcore en progressive metal. Dit festival wordt georganiseerd door drie Rotterdamse dames die een samenwerking met poppodium Baroeg zijn aangegaan.
Submit gelooft in de kracht van de Nederlandse metalscene en het talent van de nieuwe generaties.
Submit – Supporting the scene together
SUBMIT FEST 2019
Zaterdag 25 mei 2019
Waar: Baroeg, Rotterdam
Zaal open: 14:00
Line-up:
Hacktivist (UK, djent / crossover metal)
InVisions (UK, metalcore)
The Royal (NL, melodic metalcore)
Time, The Valuator (DE, progressive metal / metalcore)
Frontstreet (NL, nu-metal)
R X P T R S (UK, alternative rock)
Familiar Spirit (UK, progressive metal / metalcore)
+ more t.b.a
Tickets: Voorverkoop €19,- (incl.), Entree  €20,- (incl.) www.baroeg.nl
Facebook: http://www.facebook.com/SubmitFest/