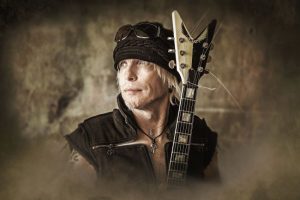 Een jaar geleden kwam Michael Schenker Fest met het album Resurrection. Dat het een eenmalige actie was van de gitaarvirtuoos blijkt uit het feit dat de leden van Michael Schenker Fest momenteel bezig zijn met de opnamen van een tweede album. Ook dit keer zijn zowel Michael Schenker en Michael Voss verantwoordelijk voor de productie van het album dat hoogstwaarschijnlijk in augustus zal uitkomen. 
Helaas moet Michael het dit keer doen zonder de plotseling overleden drummer Ted McKenna.
Michael: "We are totally heartbroken to hear about Ted McKenna – our amazing drummer and dearest friend – passing away. It's a massive shock and a huge loss to lose Ted so suddenly. He always had a smile on his face and was one of the most sincerely genuine people you could ever have the pleasure of meeting. One of the great rock drummers, he always played from the heart and his heart was music.
Rest in peace Ted, we will miss you."
Nog in een rouwfase maakt de band wel bekend dat Simon Philipps en Bodo Schopf, die al eerder met Michael meespeelde, aan de bezetting zijn toegevoegd. Simon, die op het debuut van MSG drumde, zal fungeren als basisdrummer op het komende album. Helaas is zijn agenda niet toereikend om Michael Schenker Fest op de aankomende tour door de Verenigde Staten te spelen. Dan zal Bodo Schopf op de drumkruk zitten. Bodo speelde eerder al op Perfect Timing en Save Yourself.
Michael: "We are very grateful to Bodo for being a team player and working out with Simon what needs to be done in order for us to continue as smooth as possible and also to Simon for helping us to make it all possible. Bodo is the perfect choice to continue as the permanent drummer for Michael Schenker Fest. It is a perfect balance between the musicians from the past. It includes everything as a family to continue MICHAEL SCHENKER FEST."
Bodo zegt er het volgende over: ". I am very sorry that Ted had to leave us under these tragic circumstances and I'm proud to rock for him and all the MICHAEL SCHENKER FEST fans. RIP Ted"