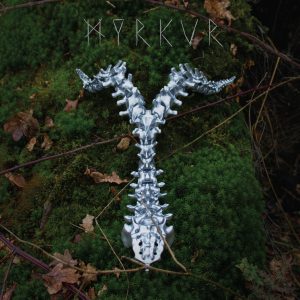 Het nieuwste album van de Deense multi-instrumentalist Myrkur laat een keerpunt horen. Na de geboorte van haar kind gaat ze door turbulente tijden, het verleden wordt afgesloten en uit de vlammen komt iets nieuws tevoorschijn.

Het album opent met het tekstloze Bålfærd, het Deense woord voor Viking Funeral. Een opgewekt begin dus. Als daarna Like Humans begint horen we de openingszin Under the sun, under the new religion I'm having fun, and I want to die. De vraag is of ze bij elkaar blijven en kunnen praten, zoals mensen doen.

Met dit album slaat Myrkur inderdaad een hele nieuwe weg in. Er staat een reeks uiterst melodieuze nummers op wat in schril contrast is met wat ik als allereerste materiaal van haar mocht horen. De nummers lijken vrolijk en opgewekt, maar wie zich verdiept in de teksten komt er achter dat er een donkere ondertoon in de songs zit.

Valkyriernes Sang is een uptempo nummer dat Myrkur in het Deens zingt, Het verhaalt over een bloedige strijd van de Walkuren, bestaande uit onbevreesde vrouwen. In het nummer Spine wordt het nog even flink stevig aan het eind van het nummer, Het album sluit af met het prachtige Menneskebarn, een slaapliedje voor haar kind, of voor het kind van de luisteraar, wie weet. Wat een prachtig album is dit, een absolute aanrader!