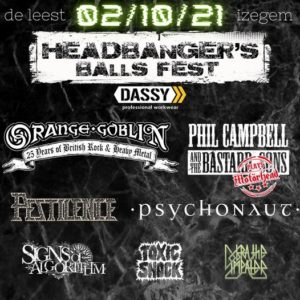 De organisatoren van het Belgische indoorfestival Headbanger's Balls Fest stellen hun jaarlijkse muziekfeest voor een derde keer uit.
In de plaats van 1 mei wordt het nu zaterdag 2 oktober. Het festival wordt nog steeds georganiseerd in Cultuurhuis De Leest in Izegem (België), maar de line-up werd opnieuw wat aangepast.
Voorlopig staan volgende bands op de affiche: Orange Goblin, Phil Campbell and the Bastard Sons (met een Motörhead-set), Pestilence, Psychonaut, Signs Of Algorithm, Toxic Shock en Cobra The Impaler.
Alle reeds verkochte tickets (via Eventbrite én papieren tickets) van '20 blijven geldig voor de nieuwe datum.