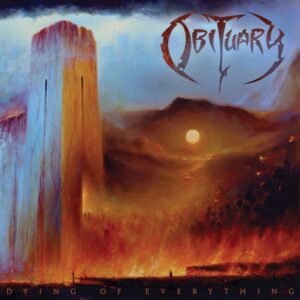 "Propelled by the inhuman vocals of John Tardy, the obscenely brutal guitar tone of Trevor Peres and rhythmic brilliance of drummer Donald Tardy, Obituary redefined heaviness throughout the 1990s. From undisputed classics Slowly We Rot and Cause of Death, through an unexpected hiatus to their current creative renaissance, Obituary have pioneered, defined and expanded extreme metal, becoming one of the underground's most recognized and respected acts." – Decibel Magazine
Het legendarische Obituary mag gezien worden als deathmetalicoon. Op 13 januari levert deze band uit Florida het nieuwe album Dying Of Everything uit via Relapse Records.
OBITUARY :  "We couldn't be more excited to FINALLY get this new album out and into the hands of the fans! We chose "The Wrong Time" for the first single as it is a true depiction of the sound, style and feel we went for in the studio and is a great taste of what you can expect from Dying of Everything."

In januari/februari zal de band met Trivium en Heaven Shall Burn een Europese tour doen, waarbij ze 17 januari in 013 te Tilburg te zien zullen zijn en 31 januari in Brussel.
DYING OF EVERYTHING TRACKLIST:
Barely Alive
Without a Conscience
War
Dying of Everything
My Will To Live
By the Dawn
Weaponize the Hate
Torn Apart
Be Warned
"I think it comes down to passion," zegt zanger John Tardy . "I say this all the time, but if something's not fun, I'm not gonna do it. And we're having more fun than ever."
Like just about every album in OBITUARY's vast catalog, Dying Of Everything is instantly memorable; it's a skill that OBITUARY have only improved upon over the years. It's unusual for a band that's been around since the '80s to be doing some of their best work in the 2020s, but that's exactly what OBITUARY have accomplished through their do-it-yourself attitude and relentless touring on a worldwide level.