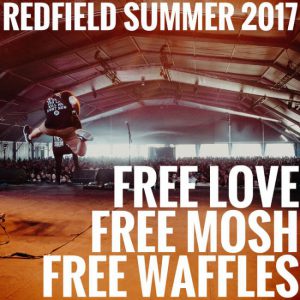 Redfield Records en Redfield Digital hebben de handen ineen geslagen en presenteren de ultieme zomersoundtrack voor je. Dertig nummers uit de Redfieldstal om te beluisteren op weg naar een festival, tijdens je vakantie op de camping, als achtergrond bij de barbeque in je achtertuin of wanneer je achterover ligt te genieten op het strand. Redfield gaat daarmee voor een hete en vooral heavy zomer.
Op de soundtrack Free Love, Free Mosh, Free Waffles! vind je nummers terug van onder meer Abandon All Ships, Shoot The Girl First, For I Am King, Any Given Day, Breathe Atlantis.
Wanneer je compilatie download heb je ook nog eens kans om drie exclusieve packages te winnen met muziek, merch, stickers en natuurlijk wafels.
Everyone who's downloading the compilation has also has the chance to win one of three exclusive packages including music, merch, stickers and of course waffles!
'Free Love. Free Mosh. Free Waffles!' is ook beschikbaar op Spotify, Soundcloud and Deezer.
Live Picture by CARINALSMEDIA
Tracks:
Shoot The Girl First – I Like The Way You Die, Boy
Wolves Scream – Oathbreaker
Elwood Stray – LVHP
Up North – New Hope
Miles Beneath – Illusions feat. Kevin of Eskimo Callboy
Revaira – Crescent
Any Given Day – Levels
Heartbound – weightless
Breathe Atlantis – Perfection
City Kids Feel The Beat – Stories
Team Stereo – Gotham feat. Richard of Kmpfsprt
Kids Insane – Overthinking
The Pariah – Compliant
All For Nothing – One Spark
A Traitor Like Judas – Hell In Heaven
Texas Local News – Clear Lines
Antillectual – One Size Fits All
Returner – It Ends With Me
As We Go – All About You, All About Me (With All)
Whiteriver – Fall
Mutiny On The Bounty – Ice Ice Iceland
Abandon All Ships – Guardian Angel (Acoustic)
When Stars Collide – Stars
Neberu – Obstructor
Valley – Woven Hands / Broken Hearts
Malcolm Rivers – Ground And Pound
For I Am King – Hades
Defy Your Dreams – The Hell We Stand
We Scrape The Sky – Hate/Love
Final Story – Stars (Acoustic)