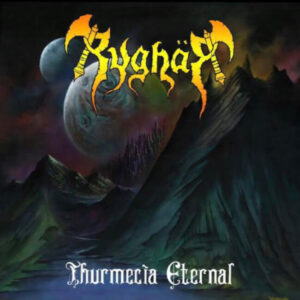 Melodieuze metal uit de woeste heuvels van Texas, Verenigde Staten.
De band Ryghar komt uit de dezelfde regio waar schrijver Robert E. Howard zijn inspiratie vandaan haalde voor zijn verhalen over Conan van Cimmeria. Als je deze gedachte vast houdt bij het beluisteren van dit album, past het toch mooi op zijn plek. De band bracht in 2020 al een single uit, het is nu tijd voor het veelbelovende debuut album.
De band bestaat uit zanger Ryghar Highwind, gitaristen Meryl Daggyrd en Thorigrimm, bassist Kyle Burton,  drummer Ryan Keeley en toetsenist Skullsuck. Het album telt negen titels waarvan drie instrumentale nummers. De titels van de nummers vallen op door de lengte, het zijn geen titels van twee of drie woorden.
Het album opent met A Castle, A Still Lake, A Forest, And A Valley Deep. Het is de beschrijving van een landschap lijkt het wel. Tekstueel passen de nummers bij elkaar, het album is een verhaal over strijd en religie, zo horen we bijvoorbeeld in Temple Of The Crystal Spire. De nummers worden gedragen door breed uitgesponnen gitaar partijen, en in combinatie met de zang weet de band een duister sfeertje op te roepen. Het instrumentale We Make For The Deeping Pass is een combinatie van piano en gitaar en gaat naadloos over in A Baleful Wind Cries Above The Ziggurat Esoternium. Zware riffs en lange uithalen in de zang kenmerken dit nummer.
Het album sluit af met het lange The Witching Blade dat verhaalt over hekserij. Bijna veertig minuten lang weet Ryghar te boeien met het verhaal. Tekstueel is het een goed te volgen verhaal, instrumentaal staat het geheel als een huis.