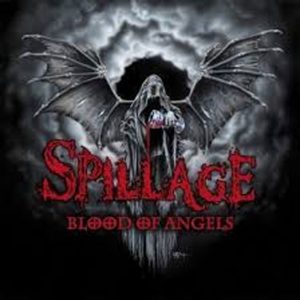 Ronkende doom metal uit de Verenigde Staten.
Spillage is een zeskoppige formatie bestaande uit zanger Elvin Rodriguez (ex-Among Madmen), gitaristen Tony Spillman en Nick Bozidurevic, bassist Billy McCuffey, drummer Chris Martins en toetsenist Paul Rau. De band heeft in 2015 hun debuutalbum uitgebracht.
Bij de eerste luisterronde van het nieuwe album komt er onbewust een ander album op, de Spillage nummers klinken bijna als of ze van het album Seventh Star van Black Sabbath komen. Stevige, trage riffs en luisterbare melodieën. Zelfs de stem van zanger Rodriguez benadert die van Glenn Hughes zoals hij op dat album klinkt. Als Seventh Star één van je favoriete albums is, kun je dit album zonder aarzeling kopen.
Blood Of Angels begint met het titelnummer, een traag rocknummer met hier en daar wat versnellingen in de melodielijn. Het wordt gevolgd door Living In Hell, een iets sneller nummer. Disappear is een wat trager nummer dat begint met een ronkende bas intro die langzaam opbouwt. De acht eigen composities zijn stuk voor stuk sterke nummers en vullen elkaar perfect aan.
Het album sluit af met een cover van Black Sabbath, de vergelijking is dus toch niet ver gezocht. Spillage zet een uitermate goede versie van Dirty Women neer, het is meer dan een eerbetoon, het is een uitstekende afsluiter van een geweldig album.