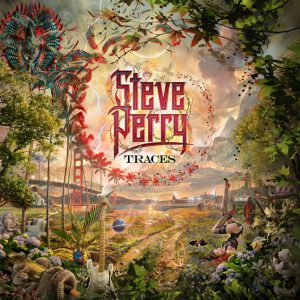 De legendarische singer-songwriter Steve Perry maakt zijn langverwachte comeback met Traces, zjin eerste nieuwe album in bijna een kwart eeuw. Het album komt vrijdag 5 oktober uit op Fantasy Records.
De beroemde zanger introduceert Traces met de openingstrack "No Erasin'" waarin hij zijn fans begroet met de openingszin "I know it's been a long time comin'." De track is een emotionele thuiskomst en een warm onthaal van de iconische stem en schrijver van Journey's tijdloze, internationale hits, waaronder "Don't Stop Believin'," "Faithfully" en "Open Arms," en zijn successen als soloartiest met "Oh Sherrie" en "Foolish Heart."
Perry: "Putting 30 years into 10 songs has certainly been an emotional experience for me. I started writing and recording these songs with the creative freedom that I was the only one who would ever hear them. Along the way, I rediscovered my love for music. Each track represents traces of my past, but is also a hopeful look into the future. I invite you to listen with an open heart."
Traces is geproduceerd door Perry en co-producer Thom Flowers en is Perry's meest kwetsbare en eerlijke album tot nu toe, waarop uitzonderlijk verlies wordt afgewisseld door hoop en schoonheid. Het album bevat negen originele tracks die het spectrum van menselijke emoties beslaan. Het bevat tevens een prachtige cover van The Beatles' "I Need You". Traces is het werk van een artiest die de muziek opnieuw heeft omarmd. Traces is beschikbaar voor pre-orders op cd, digitale download en 180-gram vinyl. Gesigneerde en exclusieve pakketten kunnen hier besteld worden. De video van "No Erasin'" kan worden bekeken op steveperry.com.
TRACES TRACK LIST:
No Erasin'
We're Still Here
Most Of All
No More Cryin'
In The Rain
Sun Shines Gray
You Belong To Me
Easy To Love
I Need You
We Fly