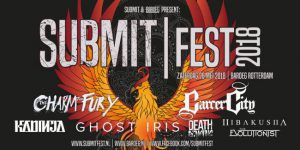 De organisatie van Submit Fest voegt de band The Evolutionist toe aan de line-up van de tweede editie, die plaatsvindt op 26 mei 2018. Uit alle inzendingen is deze kersverse, talentvolle band uit Alkmaar gekozen als winnaar en zal het festival openen. Met de toevoeging van The Evolutionist is de line-up voor Submit Fest 2018 compleet!
Eerder werden The Charm The Fury (NL), Carcer City (UK), Kadinja (FR), Ghost Iris (DK), Death Remains (UK) en Hibakusha (NL) bekend gemaakt.
Submit Fest is het indoor festival met de beste 'up and coming' en 'breaking through'
metal acts van regionale, nationale en internationale bodem. Dit festival wordt georganiseerd door drie Rotterdamse dames die een samenwerking met poppodium Baroeg zijn aangegaan. Deze editie richt zich op metalcore en progressive metal. Kaarten in de voorverkoop kosten 19 euro. Tickets aan de deur kosten 20 euro.
Submit gelooft in de kracht van de Nederlandse metalscene en het talent van de nieuwe generaties.
SUBMIT FEST 2018
Zaterdag 26 mei 2018
Waar: Baroeg, Rotterdam
Zaal open: 14:00
Line-up:
The Charm The Fury (NL, metalcore / groove metal)
Carcer City (UK, progressive / metalcore)
Kadinja (FR, progressive metal)
Ghost Iris (DK, progressive / metalcore)
Death Remains (UK, metacore / hardcore)
Hibakusha (NL, progressive / groove metal)
The Evolutionist (NL, progressive / metalcore)
Tickets: vvk €19,00. Entree €20,00 www.submitfest.nl
Facebook: http://www.facebook.com/SubmitFest/