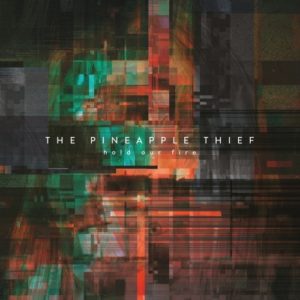 The Pineapple Thief gaat als een speer.
Na de komst van drummer Gavin Harrison is de carrière van deze Britse (progressieve) rockband in een stroomversnelling geraakt. Het album Dissolution (het eerste studioalbum met Gavin Harrison) uit 2018 is tot op heden hun meest succesvolle. Er volgde eind 2018/begin 2019 een Europese tour in twee delen. En ten tijde dat ik deze recensie schrijf tourt de band voor het eerst in haar historie in Noord Amerika.
De Britten en hun platenlabel bedachten zich niet en smeedden het ijzer zolang het nog heet was. Daarom bracht men het live-album Hold Our Fire uit nog tijdens de live tour. Het album is opgenomen gedurende het eerste deel van hun 16 optredens tellende tour in het najaar van 2018. Het zal je niet verbazen dat maar liefst acht van de negen nummers afkomstig zijn van Dissolution. Aangevuld met 3000 Days van het album Someone Here Is Missing. Op dit nummer is voor het eerst de nieuwe gitarist George Marios te horen. Onbetwist hoogtepunt op dit slechts 50 minuten durende album is White Mist. Daar hoor je waarom Gavin Harrison The Pineapple Thief dat beetje meer geeft om die topband te zijn.
Diegenen die een of meer optredens van de band heeft bijgewoond weten wat voor vlees men met dit album in de kuip heeft. Zij kunnen dit fraaie live-album blind aanschaffen. Ken je de band nog niet dan is de live dvd/cd Where We Stood (toen met nog 'sessie' drummer Gavin Harrison) misschien een betere start. Temeer daar ook ander materiaal uit het oeuvre van de band op staat.
Meer weten over The :Pineapple Thief? Check dan dit interview wat ik had vlak voor hun optreden in de Boerderij in Zoetermeer op 1 maart 2019.