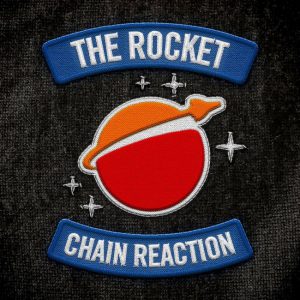 The Rocket, één van de beste poppunkbands van België, maakt zijn comeback met een nieuwe single, de eerste in jaren.
The Rocket werd enkele jaren geleden, na twee albums en een doortocht op het Belgische punkfestival Groezrock, voor onbepaalde duur on hold gezet. De bandleden gingen elk hun weg. Tom, Stijn en Jos stapten in een NOFX-tributeband, Stijn speelde in elektropopband Get Off My Shoes, Bastiaan maakt deel uit van popband The en zit ook nog in progmetalband Atmospheres en Fred, Jos en Bastiaan vormden emoband Ghosts+Villains. Maar het jeukte na al die zij- en nevenprojecten blijkbaar ook om opnieuw met The Rocket te gaan opnemen en spelen. En dus werd een reünie op poten gezet.
De eerste single van het volledige album dat in april volgt, is Chain Reaction. Producer van dienst was Marc McClusky. Die kan je kennen van Weezer of Bad Religion, maar de Belgische punkrockers kennen hem vooral van zijn werk met  Motion City Soundtrack, één van hun favoriete bands. Chain Reaction is gelikte en catchy synth-poppunk in de lijn van Blink 182 en Sum 41. Gewoon leuk.