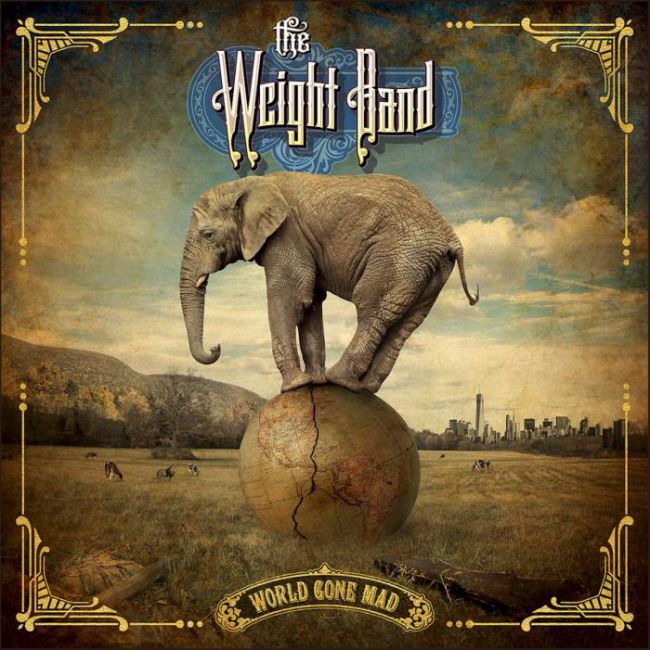 Ooit ben ik niet voorbij het eerste half uur van een film gekomen, omdat ik een nummer hoorde, herkende en toch niet kon thuisbrengen. De rest van de film bracht ik door op IMDB, Wikipedia, Spotify en YouTube.
De track in kwestie was The Weight van The Band. Van The Band kent bijna iedereen de namen Robbie Robertson, Rick Danko en Levon Helm wel. Een bescheidener rol in The Band was weggelegd voor gitarist Jim Weider (opvolger van Robertson) en drummer Randy Ciarlante.
Een paar jaar geleden speelden ze eenmalig met toetsenist Garth Hudson, het vierde oerlid van The Band, tracks uit de rijke discografie van The Band. Het beviel Weider en Ciarlante zo goed dat ze er bandleden bijzochten en op tournee gingen als The Weight Band. Ciarlante is op het debuut van de band, World Gone Mad, nog op twee tracks te horen, maar inmiddels is Weider de enig overgeblevene van de aanstichters. De rol van de ander vier, toetsenist/gitarist Marty Grebb, toetsenist/accordeonist Brian Mitchell, bassist Albert Rogers en drummer Michael Bram valt niet te onderschatten in The Weight Band. Niet alleen omdat ze muzikaal het warme geluid van The Band weten te evenaren, maar ook omdat ze alle vijf leadvocalen verzorgen.
De Woodstock Sound, noemen ze hun stijl zelf. Kort gezegd komt het erop neer dat ze een mix van folk, country en rock met prachtige vocale harmonieën ten gehore brengen. Dat het sterk aan The Band doet denken is logisch. Soms gaat het door de harmonieën wat meer richting Eagles, op andere momenten hoor je er John Hiatt in. Maar vooral klinkt het als een band, waar de ego's terzijde geschoven lijken voor een harmonieus totaalgeluid. Er valt genoeg te genieten van individuele instrumenten, maar het zijn vooral details in een warm, uitnodigend bad. The Weight Band afdoen als een tributeband zou ze schromelijk tekort doen, daarvoor zijn het materiaal en de uitvoering simpelweg te goed.
Het songmateriaal is veelal van de hand van Weider en/of Grebb. Twee songs zijn nog meegeschreven door de in 2012 overleden Helm. I Wish You Were Here Tonight, hier met Jackie Greene als co-leadvocalist en slidegitarist, is het bekendst van Ray Charles – al zou je dat in deze naar de Eagles neigende versie niet zeggen. De andere covers zijn van The Grateful Dead (Deal) en Bob Dylan (Day Of The Locusts). Ook die zet The Weight Band naar zijn hand. Zonder die voorkennis zou je zonder meer aannemen dat het eigen tracks van The Weight Band zijn, zozeer past het bij de acht overige tracks op World Gone Mad.
Het album kwam hier al in september uit, dus ik ben er wat laat mee. Gelukkig is The Weight Band volstrekt tijdloos. Wat geen beletsel hoeft te zijn om het album als de wiedeweerga aan te schaffen…