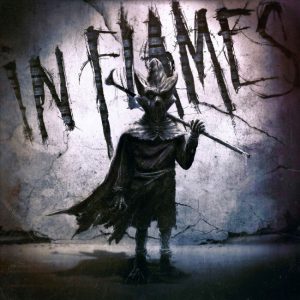 Ik heb het idee dat In Flames niet stil zit. De band blijft live volle zalen trakteren op hun Gothenborgsound en de Zweden hebben nu bekend gemaakt dat op 1 maart 2019 het dertiende album van de band uitgebracht zal worden door Nuclear Blast Records/Eleven Seven Music. Het album I, The Mask is het product van een hernieuwde samenwerking van de band met producder Howard Benson die ook verantwoordelijk was voor de productie van Battles uit 2016. 
"This album is really a special one to us. Since our last record, "Battles", we've established our own annual festival in Sweden and have been touring non-stop worldwide, creating an even stronger bond with our fans. You could say it was a big part of our inspiration for this album. It's been such a long journey that just keeps going and growing; We feel extremely thankful for that, and for the support that makes it possible. We dedicate our 13th album, "I, The Mask" to our fans who allow us to keep making music and playing it every night. IN JESTERHEADS WE TRUST."
– Anders Fridén from IN FLAMES
Als aankondiging voor het nieuwe album zijn er nu twee video's beschikbaar. De eerste is I Am Above waarin de Zweedse acteur Maartin Wallström (Mr Robot) een rol speelt."
I was very intrigued by doing something I've never done before and honored getting the question from IN FLAMES. Also trying to portray a lively song in a dark room, sitting in front of a camera was challenging, but I felt strongly for the song and the lyrics, so that was a comfort."
– Martin Wallström from Mr. Robot
De video van (This Is Our) House is bijzonder omdat er beelden te zien zijn van het eerste optreden van In Flames op het jaarlijkse Zweedse festival Borgholm Brinner.
In Flames is op 10 april live te zien in Trix in Antwerpen en op 23 juni op de Graspop Metal Meeting in Dessel.
Track list of »I, The Mask«
Voices
2. I, The Mask
3. Call My Name
4. I Am Above
5. Follow Me
6. (This is Our) House
7. We Will Remember
8. In This Life
9. Burn
10. Deep Inside
11. All The Pain
12. Stay With Me