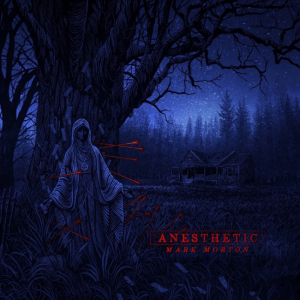 Het was goed om Lamb Of God weer te zien afgelopen november in het voorprogramma van Slayer, maar het heeft wel (te) lang geduurd en het is wachten op nieuw werk. Gitarist Mark Morton heeft ondertussen niet stil gezeten en heeft het solo-album Anesthetic opgenomen dat onder zijn eigen naam uitgebracht zal worden door WPP Records en Spinefarm Records op 1 maart 2019.
Wat we mogen verwachten van het album wordt misschien een beetje duidelijk nu de eerste compositie The Truth Is Dead van een video is voorzien. Hiervoor heeft hij medewerking gekregen van Lamb Of God-zanger Randy Blythe en Arch Enemy zangeres Alissa White-Gluz.
Het album Anesthetic omvat tien composities en naast Randy Blythe en Alissa White-Gluz heeft een lijst respectable artiesten eveneens aan het album meegewerkt. Zo kun je Roy Mayorga, David Ellefson, Ray Luzier, Paulo Gregoletto and Alex Bent, Mike Inez, Jean-Paul Gaster, Steve Gorman and Marc Paul horen.
Het idee voor een solo-album is eigenlijk een idee van Jake Oni, producer Josh Wilbur en Morton waarbij Mark als creatieve spil het project vorm heeft gegeven. Josh en Jake hebben wel meegeschreven, opgenomen, geproduceerd en gespeeld.
Morton:  "This album wasn't a concerted effort to start something outside Lamb of God," he explains. "Music is always in my head, and until I write and record it, it's stuck there. But once I record it, it's out. It's a catharsis, more for my own sanity." 
ANESTHETIC Tracklisting:
1. "Cross Off" (feat. Chester Bennington)
2. "Sworn Apart" (feat. Jacoby Shaddix)
3. "Axis"  (feat. Mark Lanegan)
4. "The Never" (feat. Chuck Billy + Jake Oni)
5. "Save Defiance" (feat. Myles Kennedy)
6. "Blur" (feat. Mark Morales)
7. "Back From The Dead" (feat. Josh Todd)
8. "Reveal" (feat. Naeemah Maddox)
9. "Imaginary Days"
10. "The Truth Is Dead" (feat. Randy Blythe + Alissa White-Gluz)