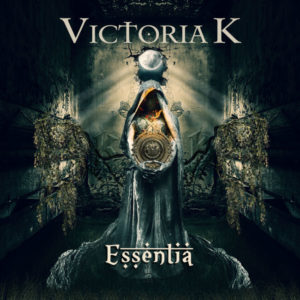 Symfonische metal van singer/songwriter Victoria K uit Australië.
Zangeres Victoria K maakte in 2016 diepe indruk met de single Monster waar ook gitarist Brett Garsed op mee speelde. Het nummer zorgde er voor dat Victoria K tussen de top 5 finalisten van de 2016 Australian Independent Music Awards eindigde en tweede in de Australian Songwriting Association wedstrijd in de categorie Jeugd. In de positieve kritieken lezen we onder andere dat Victoria een opkomend talent is in de gothic en symfonische metal scene in Melbourne.
Op het album Essentia wordt ze begeleid door zanger Sheri Vengeance (Black Like Vengeance, ex-Ne Obliviscaris), gitarist Brett Garsed, drummer Gerry Pantazis,  bassist Rich Panaia en toetsenist Lee Bradshaw. Het orkest dat we in diverse nummers zo duidelijk horen is het Budapest Scoring Orchestra.
Het eerste nummer op het album is Freedom Uncharted waarbij de heldere, frisse vocalen van Victoria doorkruist worden door de rauwe zang en grunts van Sheri Vengeance. Het is een uptempo nummer met opzwepende drums en trage gitaar riffs. Aan het eind van Surreal horen we ineens Arabische zang waarna het in Forsaken en Matrix weer voluit gaat, samen met Sheri Vengeance.
Heavenly is een prachtig, rustig nummer met een zeer aanwezig orkestrale begeleiding. De vocalen van Victoria blijven boeien, zowel in de rustige nummers als in de stevigere nummers. Het album sluit af met een ouder nummer, Lacuan. In diverse nummers is goed te horen waar de inspiratie van Victoria vandaan is gekomen, Evanescennce, Within Temptation, Nightwish en Kamelot om maar eens een paar namen te noemen. Maar als je op YouTube gaat kijken zie je dat ze haar hand niet omdraait voor een cover van  The Trooper (Iron Maiden) of Nothing Else Matters (Metallica). Deze zangeres heeft heel wat in haar mars en dit is vast niet het laatste album van haar hand. Laten we hopen van niet.