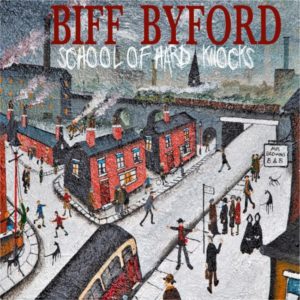 Biff Byford is sinds jaar en dag de zanger van de uiterst succesvolle (hard)rockband Saxon. Na veertig jaar is het blijkbaar tijd voor Biff om zijn eerste solo-album uit te brengen. 21 februari is het dan ook zover en zal School Of Hard Knocks in de winkels liggen. Een album met daarop composities die verhalen over onder meer wat Biff zelf bezighoudt met daarnaast enkele onderwerpen uit de middeleeuwen.
Aan het album werkten onder meer Phil Campbell (Motörhead/Phil Campbell & The Bastard Sons), Alex Holzwarth (Rhapsody of Fire, Turilli / Lione Rhapsody), Nick Barker (Voices), Dave Kemp (Wayward Sons) en Nibbs Carter (Saxon) mee. Voor het album werkte Biff verder samen met Fredrik Åkesson (Opeth) op gitaar, Christian Lundqvist op drums en Gus Macricostas op bass. Biff speelt ook nog eens zelf wat aardige nootjes.
Eind oktober was de première met de video bij Welcom To The Show.

en afgelopen week verscheen de video bij het titelnummer.