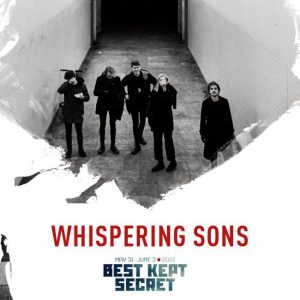 De Belgische postpunkband Whispering Sons is bezig met de verovering van Nederland. Ze zijn bezig met een tweede Europese tournee voor hun debuutalbum Image dat op deze site een heel lovende review kreeg. De eerste Nederlandse – en inmiddels uitverkochte – halte is 19 april in De Nieuwe Nor in Heerlen. De volgende is 20 april in het Burgerweeshuis in Deventer. Daarvoor zijn wel nog tickets beschikbaar.
Whispering Sons maakte begin dit jaar een goede indruk op Eurosonic en kwam eerder al vaak naar Nederland voor shows in relatief kleine zalen, maar die fase lijkt inmiddels voorbij. Voor de Record Store Day komt er een live-vinyl uit van deze band.
Na de clubconcerten in Heerlen en Deventer komt deze postpunkbelofte nog vier keer terug voor het festivalseizoen: Best Kept Secret in Hilvarenbeek, Valkhof Festival in Nijmegen, Welcome To The Village in Leeuwarden en Into The Great Wide Open in Vlieland.