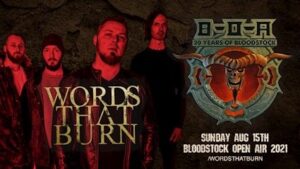 De laatste twee albums van Words That Burn overtuigen enorm. Met hun mix van diverse invloeden weet de alt- /modernmetalband uit Ierland een geluid neer te zetten dat aanspreekt. Soms niet meteen, maar uiteindelijk weet de band je te imponeren.
Op 15 augustus staat een optreden gepland voor Bloodstock. Ook daar zal de muziek die invloeden kent van KoRn, Parkway Drive, Faith No More en Architects het publiek doen smelten. Ondertussen is de band aan het werk om het derde album, geproduceerd door Josh Schroeder (King 810, Lorna Shore), uit te brengen in het voorjaar van 2022.
Als voorproefje op het album en als voorproefje op het optreden op Bloodstock Festival is de video bij Den Of Lions uitgebracht.