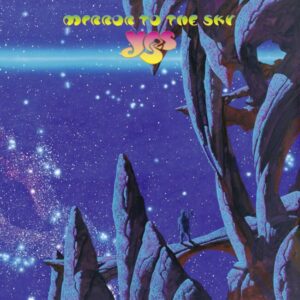 YES, de band met de huidige line-up van Steve Howe, Geoff Downes, Jon Davison, Billy Sherwood & Jay Schellen, hebben aangekondigd dat op 19 mei via InsideOut Music/Sony Music het nieuwe album Mirror To The Sky wordt uitgebracht.
Steve Howe, het langstzittend lid van de band, gitarist en producer van het album zegt:
"This is a very important album for the band. We kept the continuity in the approach we established on The Quest, but we haven't repeated ourselves. That was the main thing. As Yes did in the seventies from one album to another, we're growing and moving forward. In later years, Yes often got going but then didn't do the next thing. This album is demonstrative of us growing, and building again." For Yes, that "next thing" is a collection of high energy, intricate, lush and layered new studio songs for an album which adds to the band's much heralded legacy, while charting a path to exciting future times ahead.
CD1:
1.    Cut From The Stars 05:27
2.    All Connected 09:02
3.    Luminosity 09:04
4.    Living Out Their Dream 04:45
5.    Mirror to the Sky 13:53
6.    Circles of Time 04:59
CD2:
1.    Unknown Place 08:15
2.    One Second Is Enough 04:04
3.    Magic Potion 04:08
"When we delivered everything, and they were just getting the vinyl and everything into production for manufacturing, we were still very much in that creative zone," legt Steve Howe uit. . "That belief that Thomas of InsideOut Music had in us really meant a lot,"
"We truly get along as people," zegtJon Davison. "I feel like everyone's focused inward to the greater circle, concentric to the core of highest standards that define Yes. It's a wonderful thing to witness and of which to play a part. I believe this reflects vibrantly in the music and the creative input that each one is willing to apply, not for the benefit of the individual, but for the greater whole that is Yes."
"There was a lot of material floating around because the band hadn't done anything in the studio for so long. Ideas were just copious," voegt bassist Billy Sherwood er aan toe. "The pace of it was fast. As soon as we were finished with The Quest, and the mix had come out, we took a couple of little breaks there to catch our breath. But there was still music flowing around in the loop. It was just constantly being looked at and worked on. As we were all home and in that mode, things started progressing quite swiftly. We just went one album into another without really announcing, 'Hey, we're working on a second record right now.' We just continued to work on material. It came about pretty naturally, and then we refined it as the process went on. But the initial bursts — there was a lot of material around!"
Jay Schellen, die sinds 2016 tourt met de band: "I had done the 2016 Topographic Drama tour on my own for Alan," says Jay. "From late 2017 onwards, we had a partnership, and a beautiful partnership, I might add. I learned so much, and discovered so much about Alan's style, and why it was the way it was. It fit his personality so perfectly. This album has Alan's presence all over it. It is inside of us. So this is still, in my heart, Alan just being present and with us, and with me, in a big way."