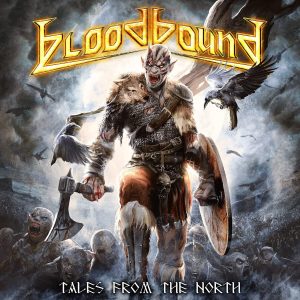 Met het nieuwste album pakt deze Zweedse power metal band flink uit, niet alleen staan er elf nieuwe studionummers op het album, het tweede schijfje bevat maar liefst veertien live nummers.

Tales From The North verhaalt over het tijdperk van de Vikingen. Als inspiratie worden oude vertellingen en sages gebruikt waarna alles samen komt in de epcische slag in 1066. De Slag bij Hasting markeerde het einde van het Viking Tijdperk.

De vikingen beschouwen zich haast onoverwinnelijk, ze hebben een nauwe band met hun goden. Zo horen we dat in Drink With The Gods en Odin's Prayer. Ook wordt er verhaald over de veldtochten in Betweend The Enemy Lines en Sail Among The Dead.

In het nummer The Raven's Cry klinken Keltische elementen en wordt er een link met folk gelegd. Ondertussen dendert de band voort zonder enig moment de instrumenten enige rust te geven. De vikingen walsen alles plat, geen genade.

De band brengt stevige uptempo nummers met goed in het gehoor liggende refreinen die uitnodigen om mee te zingen. Zo horen we enthousiast publiek op Live From The Dark Realm, de titel van het live gedeelte bij dit album. Het is een live registratie van Metalfest Open Air 2022. Nummers als In The Name Of Metal en Nosferatu laten een band op de top van zijn kunnen horen.

Dit dubbelalbum is absoluut de moeite waard voor liefhebbers van melodische power metal.