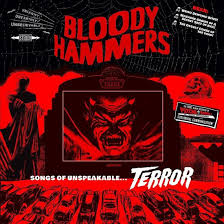 Bloody Hammers is het project van het echtpaar Manga (zang, bas, gitaar)  en Devallia (toetsen). Ze komen uit Transylvania (!) County, North Carolina en maken al wat jaartjes een interessante mix van goth rock, heavy metal en doom. Met dit album voegen ze daar een heel dikke laag horrorpunk aan toe.
Openingstrack A Night To Dismember zet de toon voor de rest van het album. En wel op een zeer catchy manier. De invloeden van horrorpunk legendes The Misfits zijn hier duidelijk terug te horen. Niet voor niets was dit dan ook de single die ze rond Halloween uitbrachten. Die invloeden zijn nog dikker op We Are The Damned en The Brain That Wouldn't Die.
Dat laatste nummer heeft met Witchfinder General ook gelijk de meeste power en ''oomph".
De goth voert net wat meer de boventoon op Night Of The Witch, met vocals die soms wat doen denken aan Bauhaus. Ook horen we meer goth op Not Of This Earth, waar mooi de sfeer wordt neergezet door een fragment uit een oude horror klassieker.
Ballad Lucifer's Light haalt wel heel erg het tempo uit het album en had beter als laatste in plaats van als voorlaatste op het album gekund.
Het is bewonderenswaardig dat twee mensen een album kunnen maken dat je laat geloven dat er gewoon een volledige band in de studio staat. Het klinkt melodieus maar toch duister en fel. Is Januari te vroeg om deze al aan mijn jaarlijstje toe te voegen?