Ik kijk terug op het voorbije jaar met een dubbel gevoel. Nooit eerder zag ik op één jaar zoveel optredens, maar toch zijn er nog minstens zoveel waarvan ik spijt heb dat ik er niet bij was. Met albumreviews is het hetzelfde: heel wat mooie ontdekkingen gedaan, maar de honger blijft naar meer. Dat zal in 2020 vast niet anders zijn.
Lijstjes zijn mijn ding. Let niet zozeer op de rangorde, wel op wie de selectie gehaald heeft. We beginnen met de albums. Opvallend is dat sommige albums in mijn reviews niet meteen voluit bejubeld werden, terwijl ze nadien wel lang blijven hangen zijn.
Growing Horns – The Nobility Of Pain (review volgt nog)
Norden – Z Popiolow I Krwi
SednA – The Man Behind The Sun
 Laang – Haiyang
Cathubodua – Continuum
Memoriam – Requiem For Mankind
Turpentine Valley – Etch
Witchlords – Demons In The Dark
Shuulak – Citrinitas
Enzo Kreft – Control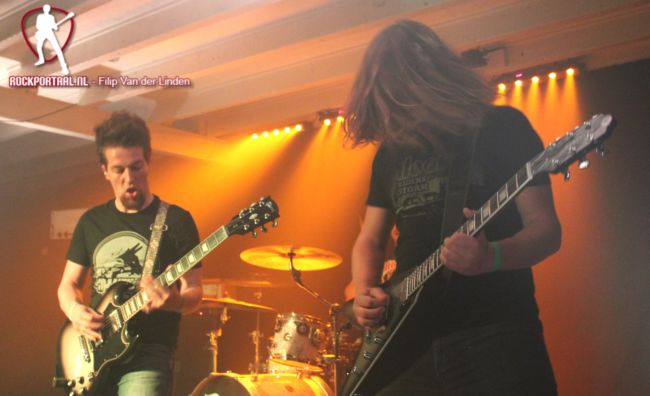 Bij de optredens vind je nog meer Belgische bands.
Moonspell op Headbangers Balls Fest in Izegem
Fleddy Melculy op de Miracle Metal Meeting in Deinze
Fire Down Below op de Stormram Stoner Night in Zulte (foto)
Growing Horns op hun albumreleaseshow in de Elpee in Deinze
Chalice op Zingem Beeft
Turpentine Valley op de Stormram Stoner Night
The Young Gods in de Botanique in Brussel
Praga Khan/Lords Of Acid in De Casino in Sint-Niklaas
Reena Riot in De Harmonie in Oudenaarde
Marche Funèbre op Zingem Beeft.