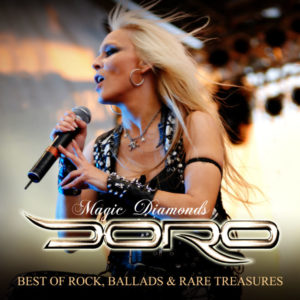 Drie cds met een totaal van 56 nummers, hoe compleet wil je een overzicht van een artiest hebben?
Dorothee Pesch zoals Doro voluit heet kennen we allemaal nog als zangeres van Warlock, die geweldige jaren tachtig band. Nadat de band uiteen viel startte Doro een succesvolle carrière met de naar haar genoemde band Doro. Aan de nieuwe release is tijd en aandacht besteed, naast de drie cds tref je er ook een Doro parfum aan en een Magic Diamonds sjaal. En om het dan nog mooier te maken, er is een For Him versie en een For Her versie. Daarnaast komt het album uit als 4lp set op gekleurd vinyl. De vinylbox bevat 2 dubbel-lps, een poster en de bonus cd Rare Treasures.
In de lange tracklisting staan juweeltjes zoals een niet eerder uitgebrachte versie van Prisoner Of Love en een spiksplinternieuwe opname van Love Me In Black dat speciaal voor deze uitgave opnieuw ia uitgekomen. Er staan live opnames op van Even Angels Cry, Revenge en het aanstekelijke Raise Your Fist In The Air.
Ook komen er een aantal covers voorbij, zo staat er een geweldige versie van Dio's Egypt (The Chains Are On) op en een cover van Nothing Else Matters van Metallica. Samen met Udo Dirkschneider zingt Doro het nummer Breaking The Law in een orkestrale versie. Er staan meer duetten op het album, met Lemmy zingt ze Love Me Forever, met Pete Steele het nummer Descent en met Tarja Turunen zingt Doro het nummer Walking With The Angels.
De nummers Fight en She's Like Thunder die Doro schreef voor haar vriendin en wereldkampioen boksen Regina Halmich. En uit de film Anuk-The Way Of The Warrior waarin Doro the vrouwelijke hoofdrol speelde, staat het nummer Warrior Soul op de tracklist. Doro zingt Duitstalige nummers net zo gemakkelijk als de Engelstalige nummers. Live spat de energie er van af, maar ook akoestisch is de stem van Doro een fijne stem om naar te luisteren.
Het zijn teveel nummers om op te noemen, ruige en stevige rocknummers, akoestische nummers, covers en duetten, alles is aanwezig. Het is een fantastisch pakket voor een eerste kennismaking met Doro. Maar ook voor de fanatieke fan is dit een geweldige aanvulling op de collectie.