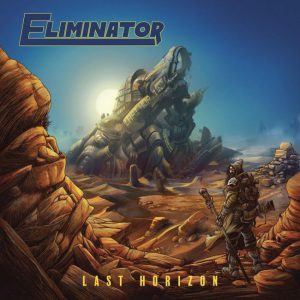 Eliminator is een jonge Britse metalband die aansluiting zoekt bij de dinosaurussen van de Britse heavy metal. In de eerste plaats bij Iron Maiden, maar op hun debuut Last Horizon staan ook hints naar Judas Priest, Saxon en Salem. Ze passen zo in de golf van vernieuwde interesse voor klassieke heavy metal die vanuit Groot-Brittannië op ons afkomt. Ook Monument, een andere relatief jonge Britse band, past in dat straatje.

Eliminator heeft een heel sterke zanger. Nog niet helemaal een Bruce Dickinson, maar we geven hem wat krediet. Ook de gitaristen leveren puik werk. In de teksten en de songopbouw zitten weinig verrassingen, maar deze Britten doen hun ding met zoveel passie en accuraatheid dat het wel moet aanslaan. Inzake opnames en geluidsmix laten ze nog wat halve punten liggen, maar dat schrijven we op het conto van de relatieve onervarenheid van deze band.

Moeilijk te zeggen of Eliminator de aflossing van de wacht is voor de generatie van Iron Maiden en Judas Priest. Ze koken alvast met dezelfde ingrediënten en volgens dezelfde recepten, maar of het publiek nog open staat voor dit 'nieuwe oude' geluid kan alleen de toekomst uitwijzen. Als ze de kans krijgen om zich te bewijzen op een paar festivals in Nederland of als support van een grotere band, zullen ze hier zeker een trouwe fanbase kunnen opbouwen.