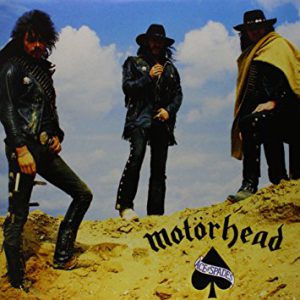 Op het moment dat Phil Campbell en Mickey Dee bekendmaken dat ze het komende jaar waarschijnlijk wat Motörhead-optredens gaan verzorgen, is de band met het heengaan van gitarist "Fast" Eddie Clarke echt ter ziele. Tenminste, de Motörhead waar ik in mijn jeugd kennis mee mocht maken. Een band die zo hard speelde dat je er niet omheen kon. 
Het ongeëvenaarde basgeluid van Lemmy Kilmister, de pompende drums van Phil "Animal" Taylor en het gitaargeronk van "Fast" Eddie Clarke was een uitstekende combinatie en heeft Motörhead vanaf toen definitief op de kaart gezet. Bijzonder feit is dat hét Motörheadnummer bij uitstek Ace Of Spades ook van de hand is van Eddie.
Na onenigheid over de muziekkoers stapt Eddie Clarke uit Motörhead om zich daarna te profileren binnen zijn eigen band Fastway, waarmee hij tot enige jaren geleden albums maakte.
Eddie Clarke is uiteindelijk bezweken aan een longontsteking en is slechts 67 jaar geworden.
Op de facebook-pagina van Motörhead official is het volgende bericht te lezen:
We are devastated to pass on the news we only just heard ourselves earlier tonight…Edward Allan Clarke – or as we all know and love him Fast Eddie Clarke – passed away peacefully yesterday. Ted Carroll (who formed Chiswick Records) made the sad announcement via his FB page, having heard from Doug Smith that Fast Eddie passed peacefully in hospital where he was being treated for pneumonia…
Phil Campbell said, "JUST HEARD THE SAD NEWS THAT FAST EDDIE CLARKE HAS PASSED AWAY. SUCH A SHOCK, HE WILL BE REMEMBERED FOR HIS ICONIC RIFFS AND WAS A TRUE ROCK N ROLLER. RIP EDDIE."
Mikkey Dee said, ""OH MY FUCKING GOD, THIS IS TERRIBLE NEWS, THE LAST OF THE THREE AMIGOS. I SAW EDDIE NOT TOO LONG AGO AND HE WAS IN GREAT SHAPE. SO THIS IS A COMPLETE SHOCK. ME AND EDDIE ALWAYS HIT IT OFF GREAT. I WAS LOOKING FORWARD TO SEEING HIM IN THE UK THIS SUMMER WHEN WE COME AROUND WITH THE SCORPS…NOW LEM AND PHILTHY CAN JAM WITH EDDIE AGAIN, AND IF YOU LISTEN CAREFULLY I'M SURE YOU'LL HEAR THEM, SO WATCH OUT!!! MY THOUGHTS GO OUT TO EDDIE'S FAMILY AND CLOSE ONES."
Fast Eddie…keep roaring, rockin' and rollin' up there as goddamit man, your Motörfamily would expect nothing less!!!
RIP FAST EDDIE CLARKE 5th October 1950 – 10th January 2018