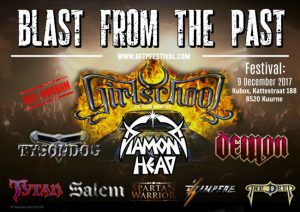 Het is nog lang niet zover maar de organisatoren hebben reeds hun affiche klaar voor het Blast From The Past Fest, een Belgisch festival dat zich toelegt op de New Wave Of British Heavy Metal. Op zaterdag 9 december komen alvast Girlschool, Diamond Head, Demon, Tysondog, Stampede, Tytan, Salem, Spartan Warrior en The Deep naar de Kubox in Kuurne (in de buurt van Kortrijk).
Diamond Head heeft nog iets goed te maken. Bij de vorige editie, in 2015, moest de band afzeggen. Ze werden toen als headliner vervangen door Grim Reaper.
Tickets kosten 30 €.