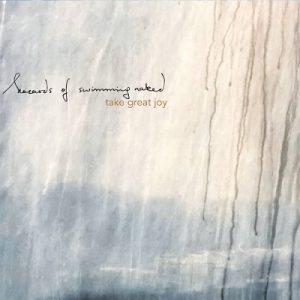 Hazards of Swimming Naked is een instrumentale postrock band uit Brisbane (Australië). Sinds de oprichting in 2005 werd in 2009 alleen het album Our Lines Are Down uitgebracht. De band bestaat thans uit Adrian Diery (gitaar), Cameron Diery (basgitaar), Rick Anzolin (drums), Chris Lait (gitaar) en Gareth Rigden (gitaar). Hun muziek, zo memoreert men, is bedoeld een weerspiegeling te zijn van hun omgeving en van het opleggen van de maatschappij aan deze omgeving en de manier waarop mensen ermee omgaan.
Take Great Joy is typisch zo'n een album wat je moet liggen. De nummers zijn lastig toegankelijk, zelfs voor postrock begrippen. De acht nummers op dit schijfje komen op mij nogal onsamenhangend over. De heren doen goed hun best te klinken als hun voorbeelden Godspeed You Black Emperor, Explosions in the Sky en Mogwai. Maar naar mijn smaak komt dat er niet uit en pronkt men met andermans veren.
Was het debuutalbum nog volledig instrumentaal, op Take Great Joy worden pogingen gedaan om te zingen. En dat had men beter niet kunnen doen. Daarnaast horen we op een aantal nummers gesproken teksten die over het algemeen niet te volgen zijn. Het maakt dat het geheel alleen maar rommeliger wordt.
Fervente liefhebbers van postrock, shoegaze en genoemde referenties moeten het album beslist een luisterbeurt gunnen. Voor mij is Take Great Joy een gemiste kans.