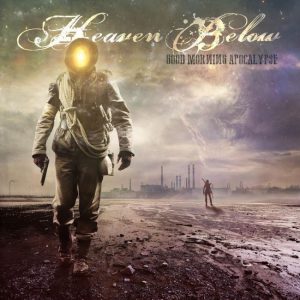 Stevige melodieuze rock en metal gecombineerd in een uitstekend conceptalbum.
De vier bandleden die Heaven Below vormen zijn zanger/gitarist Patrick Kenniston, gitarist Lucas Kanopa, bassist John Younger en drummer Shad Wilhelm. Het album opent met het stevige en melodieuze Nefarious Angels, met een gastrol voor Jason McMaster (Dangerous Toys, Watchtower, Broken Teeth). Hij is één van de vier gastmuzikanten op het album. Het nummer wordt gekenmerkt door snelle snoeiharde gitaarriffs en een agressieve zang. Renegade Protest Movement is zo mogelijk nog sneller en harder. Kobra Paige (Kobra And The Lotus)  is de tweede gast, te horen op Devilina And The Damage Done. Het nummer begint met een telefoongesprek, waarna alle registers weer open gaan. Agressieve zang, een nadrukkelijk aanwezige gitaar en roffelende drums. Het nummer heeft een herkenbare melodielijn en koortjes die in je hoofd blijven hangen.
Niemand minder dan Lita Ford neemt de vocalen van Running Under Satan's Hand voor haar rekening. Een oorverdovende muur van geluid, een herkenbare sound voor Ford, die ook nauw samengewerkt heeft met Kenniston. De vierde en laatste gast op het album is Udo Diorkschneider (U.D.O. en Accept). Hij speelt mee op Black Sunrise/War Of The Gods. Het verhaal van het album is niet echt vrolijk, dat mag duidelijk zijn. Titels als Death Battalion, Among The Wolves/Worldwide Suicide en I Would Do It All Again/Burials At Sunset zijn duidelijk. Het is een verhaal over oorlog en geweld.
Instrumentaal en tekstueel zit het geheel goed in elkaar, muziekfragmenten worden hier en daar onderbroken door gesproken delen, hetzij in een telefoongesprek, hetzij door journalisten in een nieuwsflits. Het album is een boeiend geheel, je blijft luisteren naar het verhaal. De band zet hier een ongelooflijk sterk album neer.