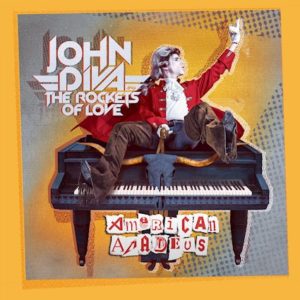 Glam metal is niet dood. Bands als Steel Panther, Kissin' Dynamite, HEAT en bij deze John Diva & The Rockets Of Love bewijzen dat.
Elk nummer citeert veelvuldig uit de gloriedagen van de hairmetal, de eighties. Let maar eens op het spoortje van Falco's Rock Me Amadeus op American Amadeus. Soldier Of Love  doet denken aan Foreigner's Hot Blooded. Weekend For A Lifetime had niet misstaan op de eerste paar albums van Bon Jovi. Op een echte hair metal plaat mag de gevoelige ballad niet ontbreken, die vinden we op dit album in de vorm van Karmageddon. De bijbehorende gitaarsolo laat je onbewust naar de aansteker grijpen om die in de lucht te steken. Dat klinkt nogal belegen, maar de stevigere wending die het nummer echter op het laatst neemt doet het bonuspunten verdienen. Wasted (In Babylon) is een prima feestnummer dat echter zo'n virtuoos snel gitaarwerk heeft dat het een stuk minder banaal wordt. Movin' Back The Years klinkt zelfs voor dit type muziek wel wat te cheesy. De echo van KISS' God Gave Rock 'n' r Roll To You is wel heel duidelijk hoorbaar op This Is Rock 'n' Roll.
John Diva & The Rockets of Love lenen schaamteloos van hun idolen. Daar geven ze echter zeker hun eigen, creatieve wendingen aan. Hoewel daar de parodie gevaarlijk op de loer ligt, weten de heren net te voorkomen dat de sound naar het belachelijke trekt. De mixing en mastering is van enorme kwaliteit. Alles klinkt ontzettend helder en vol. Voor wie heel sterk denkt Kissin' Dynamite terug te horen in de sound, dat klopt. Kissin' Dynamite frontman Hannes Braun heeft inderdaad bijgedragen aan enkele composities.
Voor fans van klassieke hardrock en hair metal een pareltje. Fans van death metal en black metal zal het de oren doen bloeden. Ik zet hem ondertussen gewoon nog een keer aan en ga op zoek naar mijn spandex broek met panterprint.