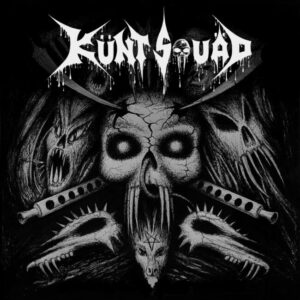 Deze band from Down Under heeft leden van bands als Velvet Hammer, Damnzal, Triphammer, Solemn Ceremony, Eldritch Rites, Open Door of Doom in de gelederen. Wat ze maken is een bak pleurisherrie in de stijl van Carcass met een dikke dosis crust. Als je goed luistert hoor je ook een beetje thrash in de stijl van vroeg Sepultura.
Vocalist/gitarist Paula Condell heeft een agressieve brul in huis waar je bang van wordt en de razende ritmesectie hamert voortdurend op je tromvliezen in als een specht. De nummers klinken soms wat chaotisch maar de dikke bas weet de diverse riffs en roffels aan elkaar te rijgen tot een coherent geheel. Het resultaat is soms wel erg overweldigend, ik kan je niet aanraden dit op te zetten tijdens de afwas. Het risico is dat je uiteindelijk je goede servies tegen de muur kapot mikt. Als vervanger voor je Red Bull of dubbele espresso werkt het echter prima.
Het album kent enkele hoogtepuntjes. Zo heeft Psycho Killer zowaar een meezingbaar momentje. Out Alive heeft wat groove waar ik wat van Mudvayne in kan ontdekken. Vooral God of War heeft wat indrukwekkend drumwerk en wat fijne staccato vocalen.
Als je op zoek bent naar een dikke bak, lekkere underground herrie zit je goed met dit album.