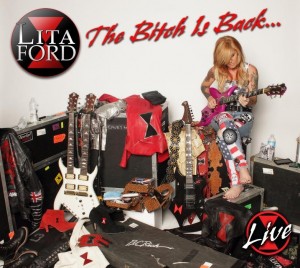 Jankende gitaren, beukende drums, Lita Ford staat weer op het podium. Een live registratie goed genoeg voor een cd-release. Lita Ford (echte naam Carmelita Rosanna) begon in de Runaways, maar maakte daarna ook duidelijk dat ze een plek verdient in de rockmuziek. Op dit live album wordt ze begeleid door Mitch Perry op gitaar, Bobby Rock op de drums en Marty O'Brien op bas. De drie heren hebben hun sporen verdiend door hun medewerking te verlenen aan talloze andere artiesten, waaronder Tommy Lee, Methods of Mayhem en Disturbed.
De live cd volgt op het geweldige comeback album Living Like A Runaway, dat in 2012 uitkwam. De show van 4 oktober 2012 in de Canyon Club in Los Angeles werd opgenomen voor deze live cd, het tweede live album van Lita in haar carrière. De show begint met de Elton John track The Bitch Is Back uit 1974. Na het openingsnummer volgen vier nummers van haar nieuwe cd, Hungry, Relentless, Living Like A Runaway en Devil In My Head.
Out For Blood klonk altijd al een beetje a la Ramones, en dat was ook de bedoeling, zo horen we Lita vertellen voordat het nummer daverend geopend wordt. Tijdens Dancing On The Edge knalt er nog een lange gitaarsolo uit de boxen. Hate blijft de donkere sfeer houden die ook in de studioversie opviel. De cd dendert voort, met als enige rustpuntje het prachtige Close My Eyes Forever.
In totaal staan er twaalf tracks op het album, waarvan 5 afkomstig van Living Like A Runaway en vier nummers van de lp Lita uit 1988. Bij deze laatste vier titels horen we ook Close My Eyes Forever, in 1988 nog een duet met Ozzy Osbourne. In de Canyon Club deelt ze het publiek mee, dat Ozzy er helaas niet is, dus zijn deel zal door het publiek gezongen moeten worden. Over het nummer Can't Catch weet Lita nog een mooie anekdote over de tijd dat ze dit nummer schreef met Lemmy Kilminster (Motorhead). Het is veelzeggend dat van het geflopte album Wicked Wonderland geen nummers gespeeld worden.
Al met al een stevige show die laat horen dat Lita Ford nog steeds haar 'kunstje' kan. Geen moment zakt de show in, dus deze komt zeer beslist in de platenkast.