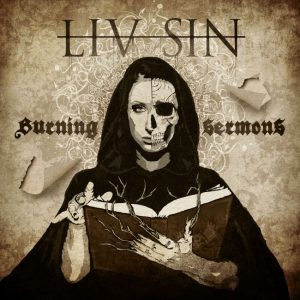 Het langverwachte vervolg op het meer dan uitstekend ontvangen debuutalbum is eindelijk daar!
Grote vraag is natuurlijk of er aan de geschepte verwachtingen voldaan gaat worden. Blood Moon Fever begint melodieus en onmiskenbaar schalt de stem van Liv Jagrell door de speakers. Rauw en scherp, maar wel met wat gepolijste randjes. Het is een stevige compositie met een goede basis van drums en gitaren, waarna de vocalen er als een warme maar pittige saus overheen gegoten zijn. Het laat horen waar Liv Sin staat, de band wil agressieve metal in een melodieuze vorm presenteren.
Onder leiding van producer Emil Nödtveidt (Deathstars) wordt het album in de Black Syndicate studio opgenomen. Voor het nieuwe album wilde de band experimenteren met het geluid van synthesizers. Niet alleen de muzikale stijl heeft veranderingen ondergaan, ook het proces van het componeren is duidelijk anders dan bij het debuutalbum. Voor het tweede album stond er een ingespeelde band die al twee jaar lang de podia en studios samen betrad. Het gevolg hiervan is dat, volgens gitarist Chris Bertzell, de nummers meer diepgang hebben, en sterkere melodielijnen.
Het nummer Hope Begins To Fade is een duet met Björn Strid (Soilwork). Het is een stevig, bombastisch nummer geworden waarin het grote verschil tussen de beide stemmen perfect naar voren komt. Slave To The Machine is een lekker uptempo rocknummer en zal als single uitgebracht worden. Chapter Of The Witch is een nummer in de stijl van klassieke metal en zo is er al met al behoorlijk wat variatie op het nieuwe album.
Met Burning Sermons vestigt Liv Sin zich definitief in het lijstje van bands om rekening mee te houden. Dit is zeker geen eendagsvlieg. Dit album zal ongetwijfeld bij een grote groep liefhebbers terechtkomen. Voor de live optredens zal de liefhebben echter het vliegtuig moeten pakken, tot op heden staan er alleen een reeks concerten op stapel in Spanje, in de maand oktober.