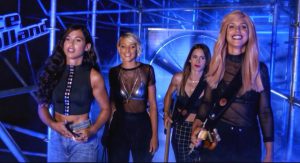 Het nieuwe seizoen van The Voice Of Holland begint en deze editie mogen ook bands meedoen. Bands die al langer aan de weg timmeren kunnen nu hun weg naar het grote publiek vinden. Zal Luminize de harten veroveren van de kijkers zoals ze ook veel fans hebben gemaakt tijdens de vele live shows met onder andere Golden Earring.
Wellicht het best bewaarde geheim? De dames van Luminize mogen eindelijk vertellen dat ze deelnemen aan de The Voice of Holland. Nederland gaat muzikaal kennismaken met Marcela, Matilda, Irena en Tea. De dames strijden al langer voor een plaats op poppodia en festivals en gaan nu de strijd aan met andere bands en artiesten in TVOH. Dit is de eerste keer in de Voice geschiedenis dat bands mogen meestrijden.
Are you ready to be Luminized?
Tel met Luminize af naar de Blind Auditions en volg hun avontuur.