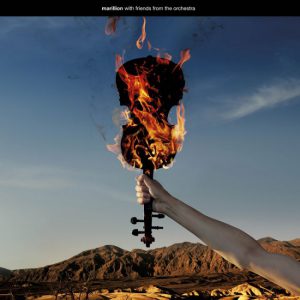 Marillion trakteert haar omvangrijke aanhang en fanschare regelmatig op extra materiaal in de vorm van live-producties, fan-cd's en andere bijzondere albums. Daarmee overbruggen de Britten de tijd tussen hun officiële studio-albums. Maar wordt ook de band-kas ruimhartig en slim aangevuld. Zo bracht men in 2018 het live album All One Tonight – Live At The Royal Albert Hall uit. En ligt daar nu, vlak voor de feestdagen, With Friends From The Orchestra. Want de laatste studio output F.E.A.R. dateert alweer van 2016.
Marillion fans staan te boek als veeleisend, loyaal en niet-kritisch. Iedere uitgave van de band wordt geconsumeerd als zoete koek. Daar verbaas ik mij al jaren over. Ik vermoed zelfs dat het merendeel van de fans ieder album 'blind' aanschaft. Of wel zonder dat men er een noot van heeft gehoord. Zijn de fans zo naïef of is Marillion zo goochem? Het antwoord mag de lezer zelf geven (ook per e-mail uiteraard).
Op With Friends From The Orchestra staan negen nummers met een totale speelduur van 80 minuten. Marillion gaat immers altijd tot het gaatje. Eigenlijk is dit album bijna een veredeld verzamelalbum. Alle nummers zijn afkomstig uit het zeer uitgebreide oeuvre van de band. Maar dan opnieuw opgenomen met bevriende orkestleden. De keuze van de nummers is in mijn ogen een arbitraire. Zo staan op de playlist achtereenvolgens Estonia, A Collection, Fantastic Place, Beyond You, This Strange Engine, The Hollow Man, The Sky Above The Rain, Seasons End en Ocean Cloud. Merkwaardig genoeg ontbreekt de enige echte Marillion-wereldhit (Kayleigh). Net zoals de hele Fish-periode is gemeden. Voor mij de beste periode. Maar dat geheel terzijde.
De mening van de band over dit album wil ik je niet onthouden. "So our brilliant producer and collaborator Michael Hunter wrote some new string arrangements and we took a week out to go to Real World Studios and record with our friends. The result has exceeded our expectations, is indeed a thing of beauty. We hope you enjoy the songs and agree with us that some of them are actually better than the originals(!). Whether or not you agree with that bold statement we're sure this work will move you."
Laat ik er mijn nederige mening aan toevoegen. Dat maakt het beeld compleet en brengt dat in evenwicht. Persoonlijk ben ik geen voorstander van het veranderen van een compositie. Die vrijheid mag een band wat mij betreft uitsluitend op het podium nemen. Marillion heeft op deze cd de keuze gemaakt dat wel te doen. Volgens mij alleen ten faveure van de charismatische frontman en zanger Steve Hogarth. Want bij beluistering steekt de inmiddels 60-jarige zanger, die ook bekendheid geniet als 'h', er als enige bovenuit. Zijn mede-bandleden komen er zeer bekaaid vanaf. Zij moesten natuurlijk plaatsmaken voor de orkestleden. En die spelen, je raad het al, tweede en derde viool. Om terug te komen op het aanpassen van compositie en arrangement is Seasons End daarvan het droeve voorbeeld. Het resultaat wat we hier horen heeft, net als de overige acht nummer, alle kracht verloren.
Maar misschien moet je dit album beluisteren met een geheel andere benadering en andere oren. Oren die ik helaas niet voorhanden had. In dat geval resteert mooie orkestrale muziek voor de donkere dagen van een band die zichzelf gecoverd heeft.