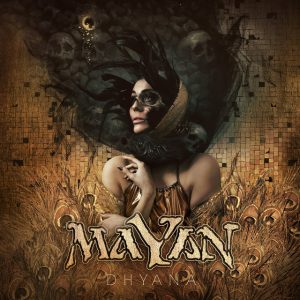 On September 21st, symphonic death metal collective MaYaN will enlighten your spirit with their epic new album »Dhyana«. For this prodigious third studio masterpiece, the international 10 piece raised over €40.000 through a crowdfunding campaign and enlisted the skills of The City Of Prague Philharmonic Orchestra, known for their work in cinematic features such as the Star Wars saga, Hannibal and many more. The new full-length release reflects on conceptual themes such as selfawareness and relinquishing our ego and self-conceited tendencies to find out who we truly are.
Today, you can finally get a first impression of »Dhyana« through the band's first single, 'The Rhythm of Freedom' that comes with a lyric video.
Mastermind Mark Jansen states:
"'The Rhythm of Freedom' references the sensation of pure freedom you feel when riding your bike or bicycle. This also refers to the album title »Dhyana«, which stands for the moment where the mind gets absorbed by the heart and you feel total happiness without worries about the past and future. But the mind, like a predator, is always waiting for the moment to take over control again.
We picked this song as our first single as it's the first impression people will get from the new MaYaN album. In it you hear the dynamic sounds in our music, layered with the City of Prague Philharmonic Orchestra who we recorded this album with. Expect a song that is heavy, yet melodic. Enjoy!"
The current line-up of MaYaN reads as follows:
Mark Jansen, George Oosthoek | grunts
Henning Basse, Adam Denlinger | clean male vocals
Laura Macrì, Marcela Bovio | clean female vocals
Jack Driessen | synths, orchestral arrangements
Frank Schiphorst, Merel Bechtold/Arjan Rijnen/Jord Otto | guitars
Roel Käller | bass
Ariën van Weesenbeek | drums
The band will also celebrate their new offering with a "Dhyana Release Party" with several shows in September:
21.09.  NL        Reuver – De Schakel (Try out show)
22.09.  NL        Utrecht – De Helling (Dutch release show)
23.09.  B          Chapelle-lez-Herlaimont – Le Cercle (Belgian release show)
»Dhyana« will be available in the following formats:
Jewelcase incl. bonus instrumental CD in O-card
Black vinyl
Gold vinyl (mailorder exclusive – limited to 300 copies)
Pre-order starts today and you can now get the format of your choice via this link:
http://www.nuclearblast.com/mayan-dhyana