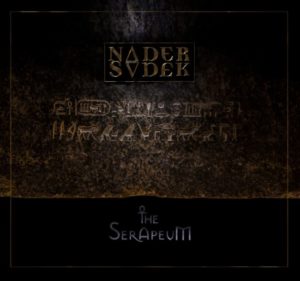 Nader Sadek, de van oorsprong Egyptische deathmetal muzikant, brengt op 20 november een bijzondere ep uit…
Nader, in samenwerking met Cairometal.net, nodigde in 2017 een aantal vrienden uit om zijn vaderland te komen bekijken. En dat zijn uiteraard wederom niet de minsten. Hij staat bekend om zijn projecten waarbij er een greep gedaan wordt uit de grote vijver van extreme death metal muzikanten. Karl Sanders (Nile), Derek Roddy (Serpents Rise) en Mahumud Gecekusu (Perversion) reisden richting het land van de piramides. Voor Karl en Derek was dit zelfs de eerste maal dat Egypte werd aangedaan. De EP is vernoemd naar een eeuwenoude Egyptische ondergrondse grafkelder en weerspiegelt de diepe inspiratie van het collectief vanuit een nieuw onderzocht terrein. Pff wat een zin maar vertaal dat maar eens even. Zelfs het persbericht is geheimzinnig…
Volgens Nader is dit voor hem ook een hele bijzondere ervaring geweest. Jaren van dromen en hopen. Maar op een dag kwamen al deze dromen uit. Het is hem zelfs gelukt om stiekem opname apparatuur mee naar binnen te nemen in de gewelven van de Piramide van Snefru in Dasjoer. Ook wel bekend als "de eerste echte piramide". Zo leer je nog eens iets. Door de, met name, vocalen in deze bijzondere omgeving op te nemen, krijgt het geluid iets bijzonders en unieks.
In de eerste helft van 2021 zal er eindelijk een opvolging komen van de in 2014 uitgebrachte ep The Malefic: Chapter III in de vorm van een volledig album. Deze ep-single is een leuke opwarmer in ieder geval voor de geoefende luisteraar van het genre.
Er is ook een Nederlands tintje aan dit album. Mendel Bij De Leij is één van de technische mannen die het mixen en masteren hebben uitgevoerd.
De ep bevat 4 tracks en zijn verschillende versies van the Serapeum.
1- The Serapeum Black Osiris
2- ReSarcophogus
3- The Serapeum Poluted Waters
4-The Serapeum (live).
Van de track The Serapeum Poluted Waters is onder andere in de piramide een videoclip opgenomen waarin de duistere en geheimzinnige sfeer goed vastgelegd is.