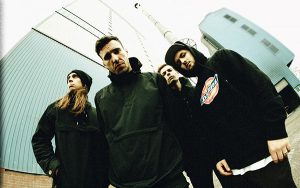 Nauwelijks bekomen van het album Starve van Blood Youth, dat afgelopen jaar in februari uitkwam, komt de band uit het Engelse Harrogate alweer met een nieuwe compositie. Playing The Victim ligt mooi in het verlengde van het geluid op Starve, maar volgens frontman Kaya Tarsus is dat geen verrassing
"'Playing The Victim' is a song we actually wrote last year when we were writing'Starve'. At the time we didn't feel like it was quite ready for release, so we decided to take a step back from it. We revisited it this year and it turned into one of our favourite Blood Youth tracks. Lyrically, it's about not letting the bullshit in life define and shape you. I really didn't like the idea of constantly using bad moments in life as an excuse for being really distant and cold towards other people. It's something I was really working on when I was putting together the lyrics. In many ways, 'Playing The Victim' is one of the most positive songs we have ever written".
Ongetwijfeld zal de band Playing The Victim spelen wanneer zij naar Poppodium Willem 2 komen op 27 november.