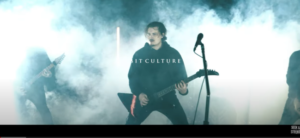 Naar mijn idee is Orbit Culture dé sensatie van de afgelopen jaren én de rijzende ster die in het kielzog van Gojira of beter gezegd, naast Gojira de wereld kan gaan veroveren met hun muziek waar de passie en kracht afspatten en waar melodie onderdeel is van een totaal overweldigend geluid.
Op 24 september brengt de band de nieuwe EP Shaman uit en na de single Mute The Silent komt de band deze week met de nieuwe single Flight Of The Fireflies. Hoewel de video morgen officieel uitkomt, heeft Revolver de première van de nieuwe video.
Ook Flight Of The Fireflies heeft alle hoogstaande ingrediënten van een uitstekende compositie zoals Orbit Culture die kan maken.
Aarzel niet en bekijk de video op de site van Revolver Magazine. En vergeet niet aan het einde van Flight Of The Fireflies het volume nog even verder op te schroeven.