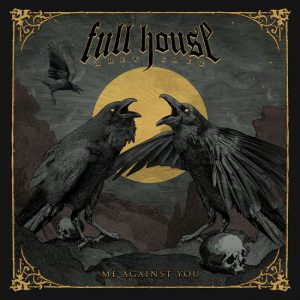 Eind november bracht Full House Brew Crew, met daarin onder meer bassist Vagelis "Van" Karzis  van Rotting Christ, het album Me Against You uit. Een dijk van een album dat meteen, zo aan het eind van het jaar, mijn jaarlijstje binnenwalste in de categorie rock/metal. 
"Met Hollow God is de megagroove van het jaar een feit. Bands als KoRn en FFDP kunnen in de leer bij FHBC. Het spreekt aan en beweegt zich in een aanstekelijke manier voort en dan weet FHBC met een dijk van solo nog een keer alles uit de kast te trekken.
Ik ken helaas het debuutalbum niet, maar Full House Brew Crew heeft me met dit album zeer overtuigd van hun kunnen. Ik houd van wel van die steunende en kreunende composities die goed in elkaar steken en je weten mee te nemen in het algemene geluid." (Rockportaal)
Het motto van de band is duidelijk:  "Our first focus is to create GOOD music, then promote it to people, create loyal fan base and tour as much as possible".
Om de muziek weer even naar voren te schuiven heeft de band een video opgenomen bij de compositie Cannot Be Judged.