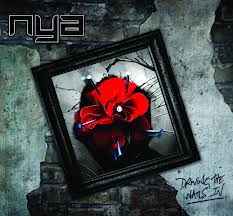 De EP Driving The Nails In van de Engelse band Nya is het vervolg op hun debuur EP. De vijf nummers zijn opgenomen in de lente van 2012 en gemixt door Bart Hennephof (Textures) en Yuma van Eekelen(Exivious/The New Dominion). Het klinkt allemaal niet slecht, zeker niet wanneer je van een band houdt met een (aantrekkelijke) zangeres.
Echt verrassend, heftig en of vernieuwend is het echter niet. Het klinkt veilig en het zou met niets verbazen wanneer de nummers in de Verenigde Staten hoge ogen zouden gooien. Het hoge poprockgehalte van de nummers zou het overzee goed doen. Opvallend is dat de geluidsbasis in Choir Invisible en Driving The Nails in best heftig wordt aangezet, maar dat het aan intensiteit verliest wanneer zangeres Anežka Pi ška inzet. Beide nummers stijgen, mede door een flink mannelijk zangstuk, wel boven de rest uit. In Open Your Eyes laat Nya wel horen dat ze weten hoe ze een hit(je) weten te schrijven. Op een gegeven moment klinkt Anežka als Nelly Furtado, wat natuurlijk als heel positief kan worden bekeken.
Nya speelt op het Metal Days Festival in Slovenië, maar van enige metal is voor mij geen sprake. Een beetje dertien in een dozijn als begeleiding bij een programma als iCarly of zoiets.