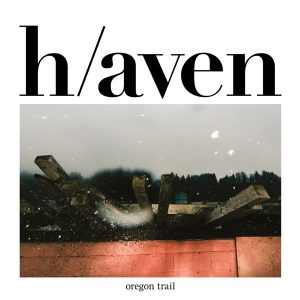 Het label Czar Of Bullets heeft een goede neus voor kwaliteit in postmetal en post-hardcore. Orgeon Trail is een Zwitserse post-hardcoreband die op Czar Of Bullets een fantastisch nieuw album uitgebracht hebben. H/aven is pas hun tweede album, maar het is in zijn soort een pareltje.

In acht tracks nemen deze Zwitsers je op h/aven mee door een landschap van depressie en alles wat je je als luisteraar oncomfortabel doet voelen: de waanzin en de leegheid van de steden, het donkere van het platteland, het majestueuze van de bossen, … Muzikaal leunt Oregon Trail soms dicht tegen black en pagan aan, maar gaat nergens echt over die grens.  Het tempo varieert en er zijn heel wat logische breaks, wat deze brok in muziek gegoten ellende toch nog verteerbaar maakt.

Gitarist Jonas Roesti legt heel wat weemoed in zijn geluid. Zijn sound roept ook meteen beelden op van de donkere doemdenkende jaren '80. De ster van dit album is echter zanger Charles-A. Bernhard. Zijn screams komen telkens hard binnen. Hij grijpt je bij je strot en laat je pas los als de laatste noot uitgestorven is.

Uitschieters zijn het heerlijk up-tempo Safety Of the Storm, Aimless At Last en Marble Grounds.

Voor fans van Will Haven, Dead Swans en (labelgenoten) ColdCell.