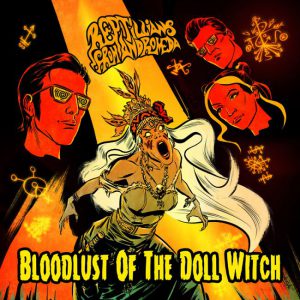 Het gebeurt zelden dat een Turkse band hoge ogen gooit in Nederland. Reptilians From Andromeda is daar voorlopig geen uitzondering op, maar er wordt aan gewerkt. Hun nieuwe EP zou ook hier behoorlijk wat fans kunnen maken.
Deze band uit Istanbul  (en dus niet te verwarren met de Reptilians uit Eindhoven) begon in 2013 als instrumental-experimenteel video art-duo en kwam dan via avant-garde, artrock en post-punk uit bij garagerock. Deze Turkse Reptilians brengen aan de lopende band nieuw materiaal uit. Hun nieuwe EP Bloodlust Of The Doll Witch bevat vijf tracks die het midden houden tussen garage en punk. Ze klinken smerig en gemeen, een beetje als de demo-versie van een jonge Blondie of als The Stooges (in hun begindagen) met Joan Jett achter de microfoon.
In hun artwork en de rest van de aankleding zit een beetje een rockabilly/psychobilly-vibe, maar niet in hun muziek. Het knappe artwork komt deze keer van comic-legende Rob Richardson. De geluidsmix was in handen van Fran Ashcroft van The Monos, die eerder reeds producer was voor The Pretty Things en die ook al in 2017 en 2018 achter de knoppen zat voor deze Reptilians.
Naar de muziek dan. De beste tracks zijn Beware Of The Pussy en Doll Witch: gemeen, smerig en basic en met een grove korrel opgenomen. Fake Blondes is wat drammerig en niet altijd toonvast. Dat laatste hoeft uiteraard niet bij punk, maar de track heeft nog wel meer werkpuntjes. Hypnodance is dan weer wat springerig, maar deze track mist nog wat peper in de kont. Rougarou is als afsluiter gelukkig het venijn in de straat, met een eenvoudige, maar heerlijke reeks riffs en licks.
https://kafadankontak.bandcamp.com/album/reptilians-from-andromeda-bloodlust-of-the-doll-witch