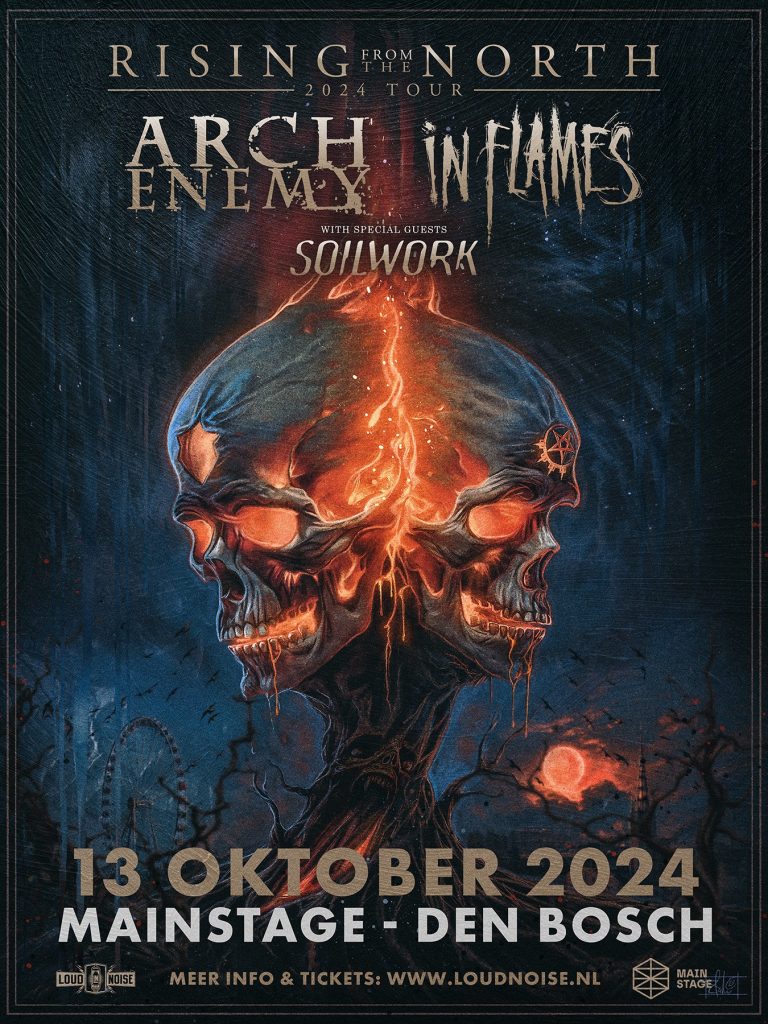 13 oktober 2024 komen twee grootheden van de melodische deathmetal naar de Mainstage in Den Bosch. Arch Enemy en In Flames hebben beide al aan heel de wereld laten zien hoe je een onvergetelijke show maakt, maar in 2024 bundelen ze hun krachten om een explosieve avond neer te zetten! Ze nemen de ondertussen legendarische Soilwork mee om het publiek op te warmen.
Tickets zijn verkrijgbaar vanaf 24 november 10:00 CET
Arch Enemy: de Zweedse band rondom gitaristen Michael Amott en Jeff Loomis speelt al sinds 1995 een toonaangevende rol in de 'melodic death metal' scene. Met frontvrouwe Allissa White-Gluz – meestal met blauw haar – als opvallende verschijning, is de band een graag geziene gast op vele festivals. Zo waren ze reeds twee maal afsluiter van Dynamo Metalfest. Samen met hun landgenoten van In Flames wordt dit smullen voor de liefhebbers van melodieuze death metal.
Michael Amott (ARCH ENEMY) : 
"What an insane Swedish Metal extravaganza across Europe in 2024! We share a lot of history with IN FLAMES and SOILWORK, going all the way back to the very early days of ARCH ENEMY. We're extremely stoked to be doing this special tour with our Swedish comrades – let's go!!!"
In Flames: de landgenoten van Arch Enemy bestaan al 5 jaar langer en worden gezien als èèn van de grondleggers van de 'Gothenburg Sound', samen met generatiegenoten At the Gates en Dark Tranquility. In Flames is hiervan waarschijnlijk de meest succesvolle band en vormde inspiratie voor vele met name Amerikaanse Death Metal bands zoals Lamb of God en The Black Dahlia Murder. Samen met Arch Enemy en Soilwork is dit voor de liefhebbers van het genre een avond om van te smullen.
Anders Fridén (IN FLAMES) :
"Couldn't be more excited to announce this tour. It's been a long time coming and we are finally back together again on stage with our friends in ARCH ENEMY and SOILWORK. We plan to bring you an unforgettable night of melody and mayhem! This is some of Sweden's finest – a tour you simply should not miss!!!"
Soilwork: om er helemaal een Zweeds feest van te maken is Soilwork bereid gevonden het death metal bal op 13 oktober te openen. De bands kennen elkaar natuurlijk al jaren, sterker nog, Arch Enemy's Michael Amott zorgde ervoor dat Soilwork hun eerste platendeal kreeg. Inmiddels kan Soilwork het prima alleen af en zorgen zij voor een vette aftrap voor een avond Zweedse death metal. 
Björn Strid (SOILWORK) further adds:
"Finally we can release the great news of one of the greatest tour line ups to hit the streets in at least a decade! We are super excited and we are pretty damn sure that this is a tour that a lot of people have been longing for. We go way back with both ARCH ENEMY and IN FLAMES, so prepare yourself for an absolute legendary Swedish melodic metal assault!"