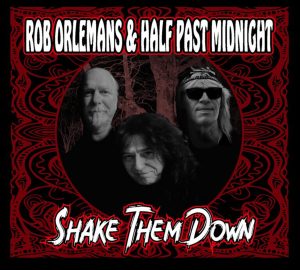 Deze Nederlandse blues rock formatie brengt na een paar jaar stilte het vijfde album uit.

Het eerste album dateert alweer uit 2002 en de band brengt om de drie of vier jaar een nieuw album uit. Het voorlaatste album komt alweer uit 2013. Hierna brengt gitarist/zanger Rob Orlemans in 2015 nog het album Live K.O. Het is een samenwerking met de Amerikaanse blues rock gitarist Michael Katon.

Maar terug naar het nieuwe Shake Them Down album. Met bassist Piet Tromp en drummer Ernst van Ee (Vengeance, Helloise, Highway Chile) horen we een hechte en solide band spelen. Direct bij de eerste tonen van het album wordt je gegrepen door de muziek. Je waant je in een donker café in de herfst, een goed glas whisky en heerlijke blues als omlijsting. Nummers als Honkin'On The Blues en Love Like A Man liggen lekker in het gehoor.

Met het nummer Boogie On Down The Line trapt de band het album stevig af. De twaalf studionummers op het album brengen een mooie variatie tussen blues en rock, er is geen tijd voor verveling tijdens het luisteren. In het uptempo Nadine horen we Chris Meijerink op de Hammond en in Midnight Rumble speelt Robert-Jan Kanis de akoestische gitaar.

De twee bonustracks zijn live opnames van JL Boogie en Red Moon Rising. Het laatste nummer is in 2015 opgenomen voor Radio Rijnmond en hierop horen we Micheal Katon meespelen.

Met bijna een uur lang kwalitatief goede muziek is dit album zeker een aanrader. Liefhebbers van blues en of blues-rock zullen deze veertien nummers ongetwijfeld weten te waarderen.