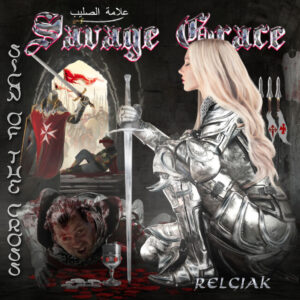 Deze speed/powermetal band maakte furore in de vroege jaren tachtig vanuit hun uitvalsbasis in Los Angeles. Nu is de band terug met spiksplinternieuw materiaal en een nieuwe zanger.
Met twee albums op zak, uitgebracht in 1985 en 1986 had de band het goed voor elkaar. Echter bleef het grote succes uit en in 1989 besluiten de bandleden uit elkaar te gaan. Nu is de band terug met gitarist Christian Logue als enige overgebleven lid uit de begintijd. De band wordt gecompleteerd door zanger Gabriel Colon, bassist Fabio Carito en drummer Marcus Dotta. Deze laatste drumt op zeven van de negen nummers mee, op Barbarians At The Gate en Rendezvous drumt Griffin McCarthy.
Op de vinyl uitgave staan negen nummers, de CD heeft een bonus nummer. De nummers zijn stevig en melodieus. Bij de intro van Barbarians At The Gate horen we wat gekraak, alsof je een oude vinylplaat opzet, daarna barst het geweld los. Een solide en ruige gitaarpartij vormt de boventoon in het nummer. Fijne uptempo rock met sterke vocalen.
Stealin My Heart Away is zo'n typisch jaren tachtig commercieel rocknummer dat het goed had gedaan in de hitlijsten van toen. Maar ook nu volstaat het op dit album, het past in het complete plaatje van degelijk bas- en drumwerk, met daarover ruige gitaar riffs en uitstekende vocalen. In het hierop volgende nummer Slave Of Desire trapt de band het gaspedaal nog eens extra in en wordt er een tandje sneller gespeeld.
Branded is het voorlaatste nummer en is grotendeels rustiger dan voorgaande tracks. Het is zeker geen ballad, verre van dat, maar het tempo ligt wat lager en qua volume is het nummer ook minder intens. Het bonusnummer is Helsinki Nights. Deze versie bruist van de energie en laat een band horen die ongetwijfeld een weergaloze live show neer kan zetten. Een heerlijke afsluiter van toch wel een uitstekend album.