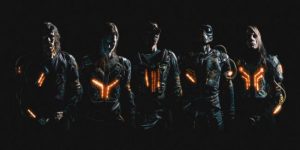 "THE ALLIANCE" – We are one! The first signal of the corresponding record to be released February the 16th 2018 which is going to supply the Sci-Fi-metal band with the required fuel for their journey through the post-apocalyptic wasteland!
CYPECORE is for sure one of the most exciting new bands in the international metal-scene.
They are from Mannheim (Germany) and playing thrilling Sci-Fi metal. Without a label deal CYPECORE performed at WACKEN, WITH FULL FORCE, SUMMERBREEZE or ROCK HARZ festival.
On 16th of Feb CYPECORE will release their new album "The Alliance" international via Vaultroom Records/Cargo.
On the 01st of March they´ll be on their "The Alliance Tour 2018", also confirmed is the british HAMMERFEST and they will share the stage with acts like Sepultura, Hellyeah, Skindred and many more
CYPECORE takes place in the year 2133. After World War III the human race got nearly exterminated by itself. Devastation. Major areas of the earth's surface are contaminated with radiation. Synthetic bodyparts are absolutely essential for survival. High tech squads are fighting for resources. CYPECORE is the incarnation of this apocalyptic scenario. Their soundtrack is brutal, martial but still melodic. Heavy guitar riffs, mechanical double bass parts, unique sounding vocals, electronic elements and cinematic sound settings are the fuel for the CYPECORE machinery.