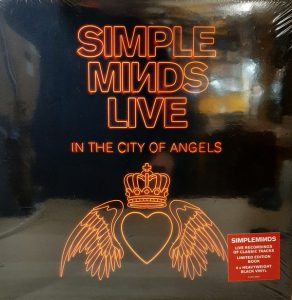 Simple Minds heeft nog eens een live-album uit. Een degelijk live-album zelfs. Zo eentje dat je je blind kan aanschaffen als je uit het hoofd vijf van hits kan opnoemen.
De Britse 80's-band bracht al vaak eerder live-albums uit, maar deze Live In The City Of Angels kan zich als eerste meten met Live In The City Of Light uit 1987. In de versie van 1987 ontbreekt wel het recente luik van het bestaan. Dan heb je wel een zuiverder hit-gehalte, maar niet het volledige verhaal. Dat heb je wel met dit nieuwe album dat in LA opgenomen werd. Alle hele en halve Simple Minds-hits die je kan bedenken, aangevuld met wet onbekend ouder werk (wie kent Hunter And The Hunted?) en het beste van de ten onrechte verguisde album uit de jaren '90 en de nieuwste eeuw.
Walk Between Worlds was vorig jaar zowat het eerste 'nieuwe' studio-album dat opnieuw goede kritieken kreeg in de pers. Van dat album krijg je hier The Signal And The Noise, de titeltrack en Sense Of Discovery. Ook cover Dirty Old Town stond al als bonus op Walk Between Worlds. Die tracks passen wonderwel tussen de greatest hits van de Britten. Uit 1991, van het album Real Life, hoor je hier See The Lights en Stand By Love. Hier moeten we toegeven dat we die twee met de mantel der liefde willen bedekken. She's A River en Hypnotised werden in 1995 ten onrechte afgebrand door de pers, net als de rest van het album (Good News From The Next World).  Uit Black & White is er nog Dolphins. Enkel coveralbum Neon Lights en Graffiti Soul worden hier genegeerd. Terwijl er op Graffiti Soul toch best wel een paar degelijke tracks stonden. En zo krijg je natuurlijk nooit een compleet overzicht.
De uitvoeringen zijn top en – toch in het begin van de set – goed ingetoomd. Pas als de eindmeet in zicht komt krijg je tracks die vooral vijf en zes minuten duren (en die dat niet altijd verdienen). Dit is een feest van de herkenning, ook al krijg je er een paar halve hits bij.