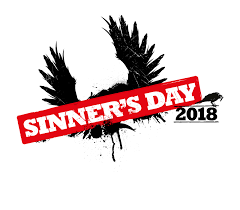 Na een jaar afwezigheid is het Belgische indoor-festival Sinner's Day terug. Genk wordt op zaterdag 1 december de Europese hoofdstad van de new wave en de punk.
Op de affiche staan legendes als  John Cale, Red Zebra, De Brassers, Fischer-Z en Gang Of Four, maar ook jonge bands als Cocaine Piss en Whispering Sons. Op eerdere edities waren de headliners o.m. Sisters Of Mercy, Echo & The Bunnymen en The Cult.
De absolute headliner van dit jaar wordt oerpunker Wayne Kramer van MC5. Vijftig jaar na de release speelt Kramer het legendarische album Kick Out The Jams integraal, met MC50, een nieuwe band met behalve uiteraard Wayne Kramer nog leden van Soundgarden, King's X en Fugazi.
Het complete overzicht van Sinner's Day: MC50, John Cale, Gang Of Four, Wolfgang Flür (ex-Kraftwerk), Cabaret Voltaire, Fischer-Z, Red Zebra, GBH, Whispering Sons, O Veux, Cocaine Piss, Claw Boys Claw, Funeral Dress, Vive La Fête, Marcel Vanthilt en De Brassers.