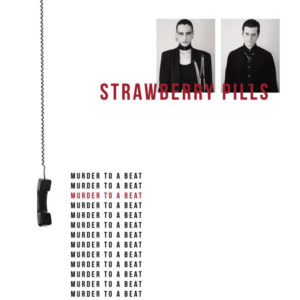 Het Griekse duo Strawberry Pills brengt op hun nieuwe album Murder To A Beat opwindende coldwave, minimal wave, EBM en donkere elektro, met zang in het Engels met een kinky accent, donkere, zwevende synths en zuinig wat gitaar.
Het duo uit Athene pimpt die genres uit een intussen ver verleden met knisperende, moderne beats. Album-opener The Voyeur zit met zijn pompende ritme in de buurt van de EBM. Valisia doet vocaal denken aan een kruising tussen Siouxie, Nina Hagen en ook nog Anne Clark. Er zijn wel meer nieuwe bands die de jaren '80 willen laten herleven, maar slechts weinigen weten de vibe van die periode zo goed te pakken als Strawberry Pills. Marscheaux vertrekken bijvoorbeeld van dezelfde bronnen, maar hun output is veel minder 'oldschool' dan wat je hier hoort op Murder To A Beat.
De beste tracks zijn voor mij The Voyeur, het zwoele Porcelain Face (alleen al voor de knappe productie) en het heel dansbare Enter The Void. Ook Dreams en Verbal Suicide krijgen van mij een heel goed rapport. Strawberry Pills zal voor Nederland nog wel een ontdekking zijn, maar als de viruscrisis voorbij is, mogen deze Grieken zeker eens langskomen.
Je vindt Starwberry Pills op Bandcamp en bij Inner Ear Records kan je een vinyl bestellen.